Iconic Pink Elephants
Giants & Miniatures for Delirium Tremens
Belgium is internationally recognized as a (or THE?) beer country. One of the craft beers that reached hopheads all around the world is Delirium Tremens. Probably more notorious than the taste is the iconic pink elephant, the beer's mascot.
"How do you fit an elephant in a car?" sounds like the start of a cheap joke, but it is basically the question Huyghe Brewery asked, and the answer is simple for us: "Inflatable"
BRIEFING:
Huyghe Brewery wants to build and maintain a strong worldwide community of beer lovers around their brand Delirium. The family brewery takes their beers to numerous beer festivals, fairs and events all around the globe, and has a vast network of bars serving one or more of the Delirium varieties. With the pink elephant they have a very suitable element to use both as an eye-catcher, and for merchandising. The playful identity of the beer invites people to show their love for the brand. T-shirts, caps, keyrings etc are pretty standard but Huyghe wanted to take it a little further.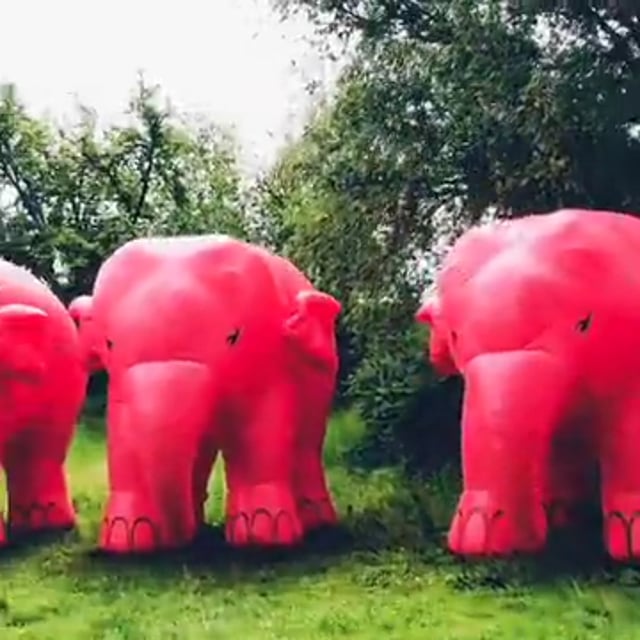 PROJECT:
The project consisted of 2 different challenges. Firstly, X-Treme made a family of 50 "giant" inflatable elephants. As we are speaking of elephants, life-size is a better choice of words. The inflatable elephant had to be a perfect reproduction of the iconic elephant, with only some beer labels and existing gadgets as a guideline. This resulted in an interesting cycle of prototypes and finetuning.
In a second phase the brewery wanted a giant herd of tiny elephants. These would be sold in the online merchandising store, to allow Delirium drinkers to play with the icon of their favourite beer in the pool (or just keep it in a nice spot around the house). For the miniature elephants, the airtight principle was the only suitable solution. Airtight inflatables have a completely different manufacturing process from giant blower driven inflatables, so we took the poor animal to the prototype table again, and started over from scratch.
ROI:
Social media has become one of the most efficient communication tools for brands. When stimulated correctly, users create free visibility. A pink inflatable elephant is very "instagrammable" – fogive us the term – The big inflatable elephants, being displayed in front of bars, at events and beer festivals, are already widely spread on Facebook and Instagram, raising brand awareness for the beer. We are sure the little ones, as an exclusive gadget for beer lovers, will follow quickly!
Wow, this is something we want to create!
But of course, we want to release it with you. Do not hesitate to contact us for a noncommittal appointment
Contact us
Special conditions for agencies
X-Treme likes to collaborate with agencies, so we offer them special conditions.
Discover our conditions
Need some inspiration?
Garnish your event with custom giant or miniature inflatables! Make your fair stand pop out with large sized prints! An innovative concept based on our ideas? No question is X-Treme enough.
Discover your possibilities!