Netflix Disenchantment bouncy castle
Giant inflatable
Netflix is a streaming service that allows customers to watch a wide variety of award-winning TV shows, movies, documentaries, and more on thousands of internet-connected devices.
Project:
It has been a real pleasure to work with such professional people as the "Monsters" (MNSTR team) although we collaborated under heavy pressure as final lead time was very tight. The end customer Netflix, a top ranked disruptive global player, seemed very determined and made no concessions about the size of the activation and the level of details incorporated into the inflatables.
While the production of the most beautiful and complex bouncy castle was evolving the "Monsters" look for a large sized festival with a well positioned 120 m² animation space available in the Paris region end of August.
The deal was closed with Rock en Seine, a reference in the French festival scene with around 100 000 visitors.
After Springfield and the year 3000, the famous creator of the Simpsons and Futurama chose Dreamland, a medieval kingdom in ruins and humorously defies the clichés of fairy tales.
A world where we can discover the misadventures of Bean, a young princess carried on the bottle, her inner demon, Luci and his companion, a cheating elf named Elfo.
With this very inflated castle, Netflix offered visitors a twisted break during the Festival.
Between humor, drunkenness, elves and demons, discover the universe of this new series, far from classic fairy tales.
X-Treme provided the technical maintenance team during the 3day festival in Saint Cloud, the gardens of former Emperor Napoleon I.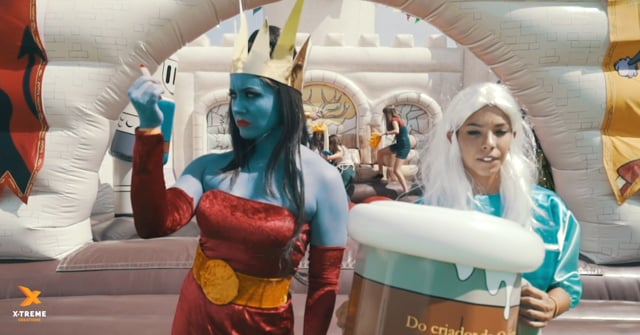 ROI:
The inflatable castle animation knew a huge success and the organisation was overwhelmed by the positive reactions and the social media impact of this "Experience marketing" on the rather "old school" Rock en Seine festival.
During the 3 days and nights continuously about 3000 persons where queuing to make and to share pictures and to play with the inflatable airtight Netflix crown, stick and swords on the bouncer.
How big the social media waves have been? We cannot tell you as this is classified °-) ...
Wow, this is something we want to create!
But of course, we want to release it with you. Do not hesitate to contact us for a noncommittal appointment
Contact us
Special conditions for agencies
X-Treme likes to collaborate with agencies, so we offer them special conditions.
Discover our conditions
Need some inspiration?
Garnish your event with custom giant or miniature inflatables! Make your fair stand pop out with large sized prints! An innovative concept based on our ideas? No question is X-Treme enough.
Discover your possibilities!